It's official - Manx Credit Union celebrates launch
Thu, 19 Jan 2017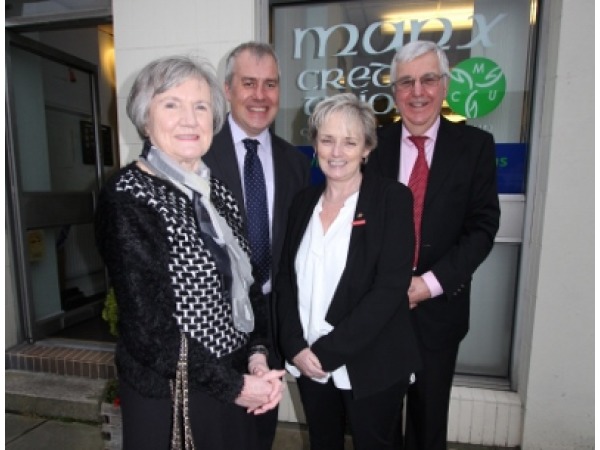 The Manx Credit Union has held its official opening today at the credit union's offices on North Quay, Douglas. It is the first credit union to be set up on the Isle of Man and offers an alternative and ethical way for local people to save and borrow money.
Formed as a financial co-operative and run by volunteers who give their time freely, the Manx Credit Union is only open to residents of the Isle of Man (its "common bond"*). Members join by opening a share savings account which allows them to save regularly up to £5,000 in total and also gives them a say in the running of the credit union. Once they have become a regular saver, members can apply for a low-cost loan.
Unlike mainstream banks, credit unions are not for profit organisations with no external shareholders to pay. Any surplus made is reinvested in expanding the credit union's services or returned to the members as a dividend. As responsible lenders, credit unions will only make loans appropriate to an individual's circumstance and their ability to repay over an agreed timescale.
In addition to savings and loans, the Manx Credit Union will also help provide financial education and promote financial literacy to its members.
The establishment of the Manx Credit Union is the result of a long campaign by a number of local residents. Although the Isle of Man passed a Credit Union Act in 1993, the legislation and accompanying regulation made the formation of a credit union difficult. However, under the leadership of local businessman David Talbot, a Manx Credit Union working party was formed in 2013 with the aim of liaising with politicians, the Financial Services Authority and others to make a credit union a reality for the Isle of Man.
Speaking at the launch, Mr Talbot said: "The launch of the Manx Credit Union today represents a huge achievement for all the people who could see the value that such an organisation has for those living on the Isle of Man. In an age where we are encouraged to spend beyond our means on credit, and where payday loans can quickly escalate out of control, the credit union offers a way for people to nurture a savings habit and to borrow within their means.
"I am delighted that Colette Jacob, who was one of the first people to moot the idea of an Isle of Man credit union over 25 years ago, has joined us to perform the official ribbon cutting duties. I am also pleased that members of the UK Credit Unions trade association, who have provided so much support to us, are present.
"Prior to opening, we had over 600 expressions of interest from people on the Isle of Man who would like to become members so that has been a great vote of confidence. We have also recruited a wonderful band of volunteers to assist us, many of whom have in-depth professional experience in financial services and governance roles."
*Common bond. Every credit union's members are connected by a common bond. This may be location, profession, faith or some other shared association. The common bond of the Manx Credit Union is that all its members live on the Isle of Man.